Alice Pung
---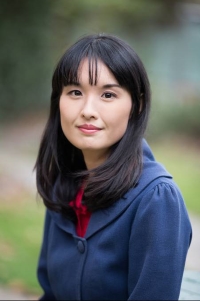 Alice was born in Footscray, Victoria, a month after her parents Kuan and Kien arrived in Australia. Alice's father, Kuan—a survivor of Pol Pot's Khmer Rouge regime—named her after Lewis Carroll's character because after surviving the Killing Fields, he thought Australia was a Wonderland. Alice is the oldest of four – she has a brother, Alexander, and two sisters, Alison and Alina.
Alice grew up in Footscray and Braybrook, and changed high schools five times – almost once every year! These experiences have shaped her as a writer because they taught her how to pay attention to the quiet young adults that others might overlook or miss.
Alice Pung's first book,
Unpolished Gem
, won the Australian Book Industry Newcomer of the Year Award and was shortlisted in the Victorian and NSW Premiers' Literary awards. It was published in the UK and USA in separate editions and has been translated into several languages including Italian, German and Indonesian.
Alice's next book,
Her Father's Daughter
, won the Western Australia Premier's Award for Non-Fiction and was shortlisted for the Victorian and NSW Premiers' Literary awards and the Queensland Literary Awards.
Alice also edited the collection
Growing Up Asian in Australia
and her writing has appeared in the Monthly, the Age, and
The Best Australian Stories
and
The Best Australian Essays
.
Alice is a qualified lawyer and still works as a legal researcher in the area of minimum wages and pay equity. She lives with her husband Nick at Janet Clarke Hall
Author's Comment:
I first started to write when I was eight years old, more out of frustration rather than wanting any kind of recognition. I wrote in private diaries because I was restless at home, looking after my baby sister while my parents worked. Looking back now, I realised how much trust mum and dad must have had in me, to leave a tiny baby with an eight year old. The diaries were pretty funny too. As a teenager, writing was a way for me to make fun of my own insecurities – having to wear K-mart tracksuit pants or not being able to hang out with friends past a certain time because my father survived a genocide and could not let us out of his sight.
Nationality:
Australian