Will Kostakis
---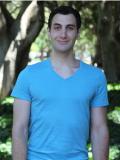 Will Kostakis is an author from Sydney, Australia. He was a teenager when his first novel,
Loathing Lola
, was published. His sophomore,
The First Third
is an intimate portrait of a broken Greek-Australian family and the boy tasked with repairing it. Aimed at readers in Years 9 and above, the book looks at mortality, identity and the pressures of 'growing up'.
His latest release,
Sean
is part of the new hit series for younger readers,
Stuff Happens
.
In 2005, Will won Sydney Morning Herald Young Writer of the Year for a collection of short stories. In 2014, Will won the Gold Inky Award, and was shortlisted for both the Prime Minister's Literary and the Children's Book Council: Book of the Year awards.
Author's Comment:
I know it's fashionable for kids to hate their parents/grandparents, especially in TV and film, but it's something I never quite related to.
I was raised by my grandmother and mother while Dad committed himself to his do-over family. I couldn't "rail against" them because everything they did was for me and my brothers – theirs is a love I wanted to pay tribute to, to appreciate.
Nationality:
Austalian