Jeff Smith
---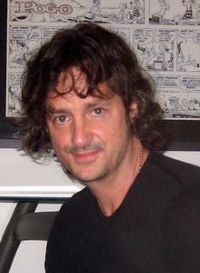 Born and raised in the American mid-west, Jeff Smith learned about cartooning from comic strips, comic books, and watching animation on TV. After four years of drawing comic strips for Ohio State's student newspaper, Smith co-founded the Character Builders animation studio in 1986. In 1991, he launched a company called Cartoon Books to publish his comic book
BONE
, a comedy/adventure about three lost cousins from Boneville.
Against all odds, the small company flourished, building a reputation for quality stories and artwork. Word of mouth, critical acclaim, and a string of major awards, which continues to this day, helped propel Cartoon Books and
BONE
to the forefront of the comic book industry.
Jeff Smith's work is published in thirteen languages and has won the highest awards in Germany, France, Italy, and at home. Between
BONE
and other comics projects, Smith spends much of his time on the international guest circuit promoting comics and the art of graphic novels.
Author's Comment:
When you work in comics, you're kind of used to lines in the sand. From the time you're a kid, you're kind of raised in this either/or type of a mind-set with comics: If you like Marvel comics, you can't like DC comics. If you like superhero comics, you can't like indie comics. There's kind of like — I believe — a false dichotomy which puts a Chris Ware at one end and Bone at the other. But I don't think one is more valid than the other. What are you going to do? It's high art versus low art. You've got Chris Ware, who is Beethoven, and you have me. I'm the Beatles. One's not better than the other. They're just making different music.
Nationality:
American