Samantha Turnbull
---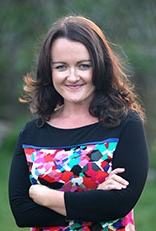 Samantha Turnbull is a multi-award winning journalist based in Byron Bay and working at the Australian Broadcasting Corporation. Her writing has been featured in publications including ABC online, the Canberra Times, Daily Telegraph, Northern Star, SHE magazine, Cosmopolitan and the Walkley magazine.
She specialises in stories that feature strong girls (but that doesn't mean that boys can't read them). No princesses. No damsels in distress. No fairies.
Sam's
Anti-Princess Mama
blog is where you'll find her writing about her quest to convince her four-year-old daughter and one-year-old son that girls and boys can like the same stuff, most princesses are kind of boring, and self-worth should have nothing to do with what you see in the mirror.
It's also where you'll find her musing about life in general in the beautiful Byron Bay (Australia's most easterly town).
The Anti-Princess Club
books are her debut novels.
Author's Comment:
My daughter is now three-and-a-half and loves books.
We've moved on from picture books to easy readers designed for primary school-aged children (truth be told, I think she likes the lengthier stories because they prolong bedtime).
It's not so much about education for us (although that's a fortunate side effect). It's about bonding.
In an era where screens suck so much of our attention, reading a 'real' book is an activity that forces you to cuddle, talk and connect.
My greatest joy now comes from seeing my daughter reading to her 10-month-old brother.
And I can hardly wait for the day my children will be reading novels written by their own mother.
Nationality:
Australian