Lane Smith
---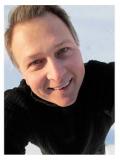 Lane Smith has written and illustrated a bunch of stuff, including
Grandpa Green
which was a 2012 Caldecott Honor book and
It's a Book
which was on the New York Times bestseller list for over six months and has been translated into over twenty languages. His other works include the national bestsellers
Madam President
and
John, Paul, George & Ben
as well as the early chapter book series
Lulu
written by Judith Viorst. His titles with Jon Scieszka have included the Caldecott Honor winner
The Stinky Cheese Man
;
The True Story of the 3 Little Pigs
;
Math Curse
; and
Science Verse
. Lane's other high profile titles include
Hooray for Diffendoofer Day!
by Dr. Seuss and Jack Prelutsky;
The Very Persistent Gappers of Frip
by George Saunders;
Big Plans
by Bob Shea; and
James and the Giant Peach
by Roald Dahl. In 1996 Lane served as Conceptual Designer on the Disney film version of
James and the Giant Peach
.
His books have appeared on the New York Times Best Illustrated Book of the Year list four times. Lane lives with book designer Molly Leach in rural Connecticut.
Author's Comment:
On his books being perceived as controversial:
I guess I don't make books for everyone's taste. My very first book
Halloween ABC
was on some banned-book lists. I'm still not sure why. Perhaps because Halloween is perceived as supernatural. When I did
The True Story of the 3 Little Pigs
folks didn't like that Jon Scieszka and I had the wolf eat the pigs (as he did in the original tale). In
John, Paul, George & Ben
there were those who thought it was sacrilege to portray founding fathers like Ben Franklin as mischievous boys. Are you kidding? Have they read
Poor Richard's Almanac
? I illustrated an edition of Roald Dahl's
James and the Giant Peach
while I was the conceptual designer of the movie. That book is always being banned somewhere . . .
Nationality:
American