Trenton Lee Stewart
---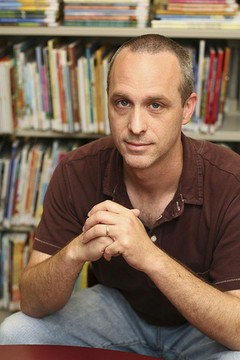 Trenton Lee Stewart is the author of the award-winning
Mysterious Benedict Society
series for young readers, as well the adult novel
Flood Summer
.
He grew up in Hot Springs, Arkansas with an interest in writing that began in the third grade. In 1992, Stewart received a bachelor degree in English from Hendrix College, a small liberal arts school where he met his wife Sarah Beth Estes. Afterwards he attended the University of Iowa's Writers' Workshop, receiving an MFA in creative writing in 1995. Stewart remained in Iowa City while his wife completed her Ph.D, after which the family moved to Cincinnati, where Stewart worked at various jobs including a video store, a hotel, and a public library. He also taught at the Iowa Summer Writing Festival and at the Miami University of Ohio. Stewart's first two novels were published during this time. He and his family then returned to Arkansas where he began writing full-time. He currently lives in Little Rock, Arkansas, with his wife and two sons.
Author's Comment:
What kind of books did you read back when you were a kid? And how about now?
When I was a kid I read just about everything I could get my hands on, which meant I read a lot of bad books along with the good ones. But my favorites were always adventures about kids in strange and difficult circumstances. Or if not kids, then rabbits (as in
Watership Down
), rodents (as in
Mrs. Frisby and the Rats of NIMH
), or hobbits (as in—you guessed it—
The Hobbi
t). I seem to have preferred my heroes on the small side.
As an adult I've been drawn to classic novels, though I read a lot of modern fiction, too. Until recently, I hadn't read books for older children or young adults in a long time, but I often looked back upon my favorites with a certain longing—I missed them—and since writing
The Mysterious Benedict Society
I've been rediscovering the pleasures of books written for that age range.
Nationality:
American