Katherine Applegate
---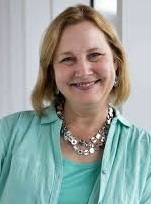 After Katherine Applegate graduated from college, she spent time waiting tables, typing (badly), watering plants, wandering randomly from one place to the next with her boyfriend, and just generally wasting her time.
When she grew sufficiently tired of performing dissatisfying minimum-wage work, she decided it was time to become a famous writer. Anyway, a writer. Writing proved to be an ideal career choice, as it involved neither physical exertion nor uncomfortable clothing, and required no social skills.
Ms. Applegate has written more than one hundred books under her own name and a variety of pseudonyms, including the internationally best-selling
Animorphs
series under the name K.A. Applegate. She won the 2013 Newbery Medal for her children's novel
The One and Only Ivan
.
Katherine lives in California with her husband –
Gone
series author Michael Grant – their two children, and assorted pets.
Author's Comment:
I like colorful tales with black beginnings and stormy middles and cloudless blue-sky endings. But any story will do.
Nationality:
American