Pip Jones
---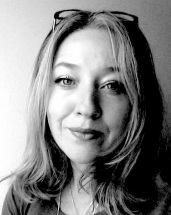 Pip Jones lives in East London with her partner, her two daughters and a real invisible cat (it doesn't catch mice, but it doesn't need a litter tray either, so there are pros and cons). She writes a lot. She even owns a writing cloak! And she spends days on end working out how to get good rhymes, such as 'snuffle' and 'kerfuffle', into stories.
Pip won the inaugural Greenhouse Funny Prize in 2012 with
Squishy McFluff: The Invisible Cat!
, her first book.
Author's Comment:
Who are your favourite literary cats?
There are so many. Cats are so enjoyable to anthropomorphise, I think that's why they appear in children's books so much. I absolutely love the Cheshire Cat, he sort of gives me the willies – brilliant characterisation by Lewis Carroll. Mog is wonderful, and I think it's brilliant that Judith Kerr eventually sent her to heaven. She managed to do that with such grace and sensitivity. And I have to mention Macavity. I own a gorgeous retro copy of TS Eliot's
Old Possum's Book of Practical Cats
and Macavity has always been my favourite.
Nationality:
British