Denise Brunkus
---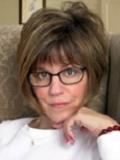 Denise Brunkus's career as an artist has been vast and varied, with jobs ranging from copying illuminated manuscripts for a museum to airbrushing art on motorcycles. She has designed stickers, toys, and greeting cards, and her illustrations have appeared in national magazines. She has illustrated more than 60 books, most notably the bestselling
Junie B. Jones
series,
Charlie Hits It Big
,
Chocolatina
,
Groundhog Gets a Say
and
Read All About It!
Author's Comment:
Making art has always been my most favorite thing to do. As a young artist, I used crayons and paints to make pictures and cards, and made dolls and puppets with sticks and Kleenex and scraps of fabric. I practiced drawing by copying the comics in the Sunday newspaper.
As I went along, I learned to "see" and be inspired by the world around me. I drew all the time. Then, when I was seventeen, the local PTA asked me to illustrate a booklet for them. I did the job, and guess what? They paid me! That was my first art job and the start of my career.
Nationality:
American