Todd Harris
---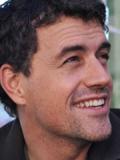 Todd Harris has created a lot of artwork for the gaming industry and is the talented illustrator behind the hilarious
League of Princes
series. His illustrations feature rich colours,almost dream-like backgrounds, great action compositions, and fun-filled fantasy characters.
Author's Comment:
Q. Do you have a favorite illustration from the novel?
I love doing the character sketches because I come up with all kinds of back stories while I'm creating them. For instance, the giant has his beard tied into small sections. This is because birds are always trying to nest in it, so he has to tie it to keep them out. My very favorite illustration, though, is towards the end and shows a tender moment between Rapunzel and Gustav. In this scene, Gustav is redeemed and it shows Rapunzel's capacity to heal and be compassionate.
Q. If you could illustrate any children's novel ever written, which one would it be?
I've always wanted to illustrated the Jabberwocky story from Lewis Carol's The Looking Glass. It's a poem that fascinates me and could be expanded into a cool story. I love the rich imagery and whimsical, nonsense words that captivate me and fire up my imagination.
Q. Do you have any advice for aspiring illustrators?
YES!! Follow your passions. If you illustrate what you love, you'll put your heart in it and do you'll do your best work.
Q. What's next for you?
I want to keep visualizing stories that I love and work on visualizing my own stories. I'm working with another author on a project - science fiction this time. I'm also working as the art director at a video game studio, trying to get it off the ground. I am grateful every day that I have a job where I can use my creativity. I wouldn't survive if I couldn't.
Nationality:
American