Marissa Meyer
---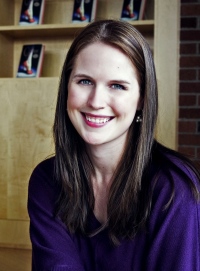 Marissa Meyer lives in Tacoma, Washington, with her husband and three cats. She's a fan of most things geeky (
Sailor Moon
,
Firefly
, colour-coordinating her bookshelf...), and has been in love with fairy tales since she was given a small book of them when she was a child. She may or may not be a cyborg. She is the author of
The Lunar Chronicles
books which combine her twin loves of fairy tales and science fiction.
Author's Comment:
One of my first spoken words was
story
(right along with
bath
and
cookie
), my favorite toy as an infant was a soft, squishable book, and I've wanted to be a writer since I first realized such a job existed.
Nationality:
American