Martin Brown
---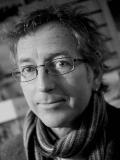 Martin was born and raised in Melbourne, Australia, with his brother and sister. Ever since he can remember he's been doodling and drawing cartoons. This enthusiasm for non-stop doodling and being glued to cartoon TV shows – especially Bugs Bunny – made his future career choice obvious.
Martin first trained to become an art teacher but he didn't complete the course. Instead, he spent a couple of years working in a television studio before following in the footsteps of thousands of Aussie backpackers and taking off round the world. He arrived in London and didn't plan to stay, but he soon settled there and started work.
Martin decided to see if he could make a living from the very thing he liked doing most – drawing. It was slow at first, the occasional cartoon or greetings card, but the work built up through magazines, books and more cards. His luck changed when he landed a job with Hippo books to illustrate Peter Corey's book,
Coping With Parents
. That started a long and happy relationship with Scholastic and the rest, as they say, is (horrible) history!
Martin lives with his wife, Sally, and their daughters Emmy and Bella, in the Dorset countryside. Although they don't have any pets the garden in front and the field at the back are full of rabbits, shrews, crows, ducks and a lone squirrel.
[Source]
Author's Comment:
Q. What kind of research do you carry out for historical pictures?
Once upon a time I would strip the local libraries' shelves of the subject of the next book - I suspect, much to the annoyance of the poor school-kids trying to do their history projects. These days the all powerful Googlemonster gets me just about everything I need. The image search is particularly useful. I can have a dozen different pictures of my chosen subject on scene in a matter of moments.
Q. From where do you get your inspiration for facial expression, attitude and gesture?
TV. A short answer but a true one. Growing up watching Bugs Bunny cartoons was a fine education. But other cartoons have been massively empowering as well. The cartoon strips by Johnny Hart and Bill Waterson, the off the wall humour of B Kliban and the editorial drawings by Pat Oliphant and Jeff MacNelly are particularly wonderful.
Nationality:
Australian