Sarah J. Maas
---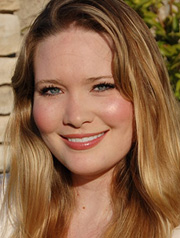 Sarah J Maas was raised on the Upper West Side of Manhattan, where she grew up enjoying New York City's premier galleries, museums and theatres. Her parents also read her countless fairy-tales, legends and folklore stories from around the world, sparking an early love of storytelling.
Sarah began writing her first serious novel at sixteen, a novel which started as a re-imagining of
Cinderella
(what if Cinderella was an assassin and went to the ball not to dance with the prince, but to kill him?) and quickly became
Throne of Glass
, a sprawling epic fantasy series with very few Cinderella elements. Initial chapters were first posted online in 2002 (as
Queen of Glass
with FictionPress.com) and was published six years later.
Sarah now works as a full-time writer. When not writing, she can be found watching TV, following the ballet (the way people follow sports), guzzling coffee, and getting bossed around by her dachshund-terrier-pug-black lab mix, Annabel. Some of her favourite books include
Book of Three
,
The Girl of Fire and Thorns
, Incarceron, and the
Lumatre Chronicles
. Sarah and her husband met in college and now live in California.
Author's Comment:
Q.
We haven't seen too much high fantasy in YA until just recently. What drove you to write fantasy? Do you think it's the next big thing?
I started writing fantasy because that was how my imagination worked. I'd always daydreamed of worlds and people that didn't exist - of faraway and magical places. I never really thought to myself: "I'm going to write fantasy." I just thought: "Hey, I've got this idea and I'm going to write it down or else my brain is going to explode."
I think our cultural obsession with high fantasy comes in waves. We've seen it rise and fall in popularity countless times over the past century (the past decade, even). I think the recent trend of high fantasy is partially due to the success of 'Game of Thrones' - and I think it'll continue to be a big thing when 'The Hobbit' releases this December. But even when we're NOT in the middle of a high fantasy explosion, I think there's something about fantasy that we keep coming back to again and again. But I could write a whole book about that, so...I'll just finish by saying that yes,I think we'll see a rise in high fantasy over the next few months/years - and I can't wait.
Nationality:
American