Budge Wilson
---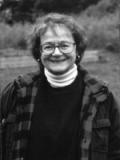 Budge was educated in Halifax schools and at Dalhousie University (degree in Philosophy and Psychology, Diploma in Education, Physical Education teaching certificate). She did two years of graduate work in English at the University of Toronto, and worked at the Institute of Child Study for four years: filing, illustrating, editing and writing. She illustrated three books for the University of Toronto Press, worked for several years as a freelance commercial artist and child photographer, and was a fitness instructor from 1968 to 1989.
She has been writing juvenile and adult fiction since 1978, with her first book published in 1984. Her work has been published in ten countries and in seven languages. In 2008, she was specially commissioned by L.M. Montgomery's heirs to produce an authorised prequel to the
Anne of Green Gables
series to celebrate the 100th anniversary of the original novel's publication.
Author's Comment:
(Writing the
Anne of Green Gables
prequel) was like being asked to do a prequel to the Bible... I knew if I was going to do this book, it was my job to fill in the gaps and explain how she could go through all that and still emerge in Prince Edward Island as a feisty and mentally healthy and articulate, forward-looking person.
Nationality:
Canadian