Mark Schwarzer
---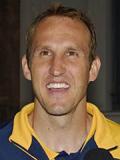 Mark Schwarzer was born in Sydney in 1972. He went to school at North Richmond Primary and Colo High School, then made his impact on the Australian League (then the NSL) at the age of nineteen, guiding his side, Marconi Fairfield, to the NSL championship. His talent was soon recognised and two years later he was signed by Dynamo Dresden in Germany. After short stays at other clubs, Mark joined Middlesbrough, where he became the longest-serving player, with over 300 games. These days, he's Fulham's shot-stopper, winning their 'Player of the Year' Award in 08/09 - the same year he won Football Australia's 'Player of the Year'. Mark has an OAM for his services to football. Mark's heroics in the penalty shootout that got Australia to the 2006 World Cup will forever be remembered as a highlight in Australian sport.
Mark is just under two metres tall (6 foot 5 inches), has worn the same pair of shin pads since turning professional in 1992, and speaks English, German and Spanish. He lives just outside of London with his wife, Paloma, and children, Julian and Amaya. He looks forward to when the family will come home to Sydney's sunny shores.
[Source]
Author's Comment:
Q. Do you call it football, soccer or Vootball?
I call it football. That's what the majority of the world calls it and I think that's what it should be called in Australia as well. We are still trying to educate the Australian public on this.
Q. Did you always play as a goalkeeper?
No, I first started playing in goal from the age of ten. My Dad was the coach and no one wanted to play in goal, so I had to do as I was told. I am however thankful today that my Dad made that decision for me.
Q. How do you save penalties?
I try and stay on my feet as long as possible to make the penalty taker make the first move. Then just try and react after the ball is kicked.
Q. What's your best memory of playing football?
Helping Australia qualify for the World Cup in Germany when we beet Uruguay in November 2005 on penalties in Sydney in front of 83,000 people.
Nationality:
Australian