Neil Montagnana-Wallace
---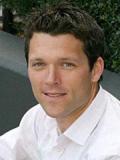 Neil Montagnana-Wallace was born in Australia to a Scottish father and English mother - and his brother is American! His wife is Italian-Australian, and they decided to put their names together and make the most confusing surname in the world.
Neil grew up in Castle Hill, NSW where he attended Castle Hill Primary and James Ruse before moving to Melbourne and going to Melbourne High School. Neil went on to become a handy soccer player, playing in Victoria's State Leagues for 15 years and also becoming a Senior Licence coach. He wrote 'Our Socceroos' in 2004, which is when he became friends with Mark Schwarzer—and ultimately how the seeds of Megs were sown.
In England Neil supports Coventry City; in Italy he supports Roma; in Scotland he supports Dunfermline; and in Australia he supports Melbourne Victory. His juggling record is 891, and his career highlight was one glorious training session years ago where he managed six beautiful nutmegs.
In 2005, Neil lived in Rome for a year, during which he learnt to speak Italian and enjoy olives. He lives in Melbourne with his wife Val, sons Finn and Angus, two cats Flash and Mao, and three chickens - Jane, Mary and Truly Scrumptious. When not writing, Neil is the Publishing Director of Bounce Books.
[Source]
Author's Comment:
Q Did you always love writing?
To be honest, not as much as I loved doing other things. I liked school and most subjects (except arty, crafty ones) but writing didn't stand out as a favourite. It does now.
Q. Where did the idea of Megs come from?
I was teaching English in Italy with my wife and was surrounded by heaps of Italian kids who couldn't speak much English. But then when we played football together, everything was so much easier. That started the idea, then I combined it with my own memories of playing football when I was younger and the idea grew. After that I spoke a lot with my wife – who's a school teacher - then also with Mark Schwarzer, who added his experiences as well. Together, we created Megs and all the Vootball Kids characters, and only then did the writing start for real.
Nationality:
Australian