Leigh Hobbs
---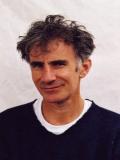 Author and artist, Leigh Hobbs, was born in Melbourne, and grew up in the Victorian country town of Bairnsdale. After graduating from art school in 1973, he initially worked as an artist at Sydney's Luna Park, where his first task was to design the colour scheme for an antique carousel. From there, he continued with a range of artistic endeavours.
In 1998, a French-Australian animated TV series was made, based on his 'Old Tom' books, while the
National Institute Of Dramatic Art
adapted his book 'Mr Chicken Goes To Paris' for the stage in 2012.
Leigh Hobbs's artwork, paintings, drawings, prints, illustrations and ceramics can be found in numerous private collections, public art galleries, and institutions including the
National Gallery of Victoria
and the
State Libraries of Victoria and Western Australia
. Although he works across a wide range of mediums, he is best known in Australia and the UK for writing and illustrating humorous children's books, including the series books: 'Mr Badger', 'Old Tom', 'Horrible Harriet', and the 'Freaks from 4F.'
Author's Comment:
Q. Who, or what, was the biggest inspiration for you to become a writer and illustrator? A. The English cartoonist Ronald Searle. Q. What was your favourite book as a child? A. Captain Pugwash. Q. Did you enjoy school and what was your favourite subject? A. Yes, I did enjoy school. Art and history were my favourite subjects. Q. What is your favourite colour? A. Green. It reminds me of England. Q. What is your proudest moment? A. When Horrible Harriet was shortlisted in 2002 for the CBC Picture Book Category. Q. Do you have a particular ritual or routine when you draw or write? A. I get up very early every day. I walk the dogs, have breakfast and am in my studio by 8am. Q. If you weren't a writer/illustrator, what would you be? A. I can't imagine not being an artist.
Nationality:
Australian