Terry Whidborne
---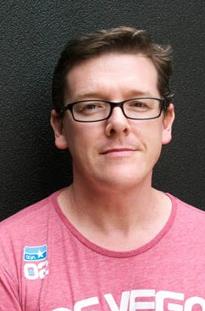 Terry Whidborne has worked in the advertising industry for many years, and is now recognised as one of Brisbane's most award-winning senior Art Directors. But as Terry's family grew, so did his interest in illustration. He began developing his style for clients such as Vogue, Virgin Blue and many of London's top ad agencies, before deciding that what he really wanted to do was concentrate on books, film and animations. Terry's first foray into books is the Word Hunters trilogy he co-created with his friend Nick Earls.
He is current working on a dark Edwardian-inspired graphic novel to be called The Lock. Terry lives in Brisbane with his wife and two children.
[Source]
Author's Comment:
(The Wordhunters) book started a couple of years ago. A friend, Nick Earls, approached me to ask if I would like to join him on a book project. He ran through the idea to which I got very excited about.
Over time we developed a pitch document containing a draft and some sample illustrations. Then off it went to publishers.
It was like letting your child go to school for the very first time and that feeling of who will take care of it, will it be ok. Will it be accepted.
Thankfully it did. UQP came up trumps. I have to say, it has got a lot bigger in scope.
Nationality:
Australian