Leslie Margolis
---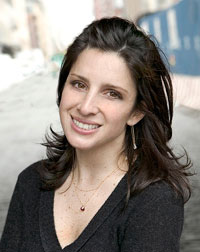 Leslie Margolis is the author of several books for young readers including
Price of Admission
,
Boys Are Dogs
and
Girls Acting Catty
, as well as the
Maggie Brooklyn
series.
Leslie earned a Bachelor of Arts, majoring in Government and Sociology, from Clark University and a Masters in Social Anthropology from the London School of Economics. She grew up in Los Angeles, California and now writes full-time in Brooklyn, where she lives with her husband, their two children, and a genius, six-toed dog named Aunt Blanche.
[Source]
Author's Comment:
Q: To help Maggie solve the dog-napping crimes in her neighborhood, she digs out some classic
Nancy Drew
mysteries. What were some of your favorite books when you were Maggie's age? Did you read Nancy Drew?
A: Of course! I loved Nancy Drew – I thought Encyclopedia Brown was a genius, and I wanted Anastasia Krupnik to be my best friend. I also thought that
Harriet the Spy
was the gutsiest girl around, and somewhat intimidating, too. When I was eight I sat down at my friend's typewriter and tried to write my own
Hardy Boys
adventure. I didn't get very far because I didn't know how to type yet. Also, my friend got bored watching me think and insisted that we go swimming instead...
Nationality:
American