Margaret Stohl
---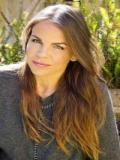 Margaret Stohl is the author of
Icons
series, as well as the internationally bestselling co-author of the
Caster Chronicles
(with her best friend Kami Garcia).
Aside from her successful career as a YA author, Margaret is a long-time veteran of the video game industry. After working with Activision and Westwood Studios (now EA), Margaret became a co-founder of 7 Studios with her husband, Lewis Peterson. She is also a contributor to the LA Review of Books and her original screenplays have been optioned by Clasky-Csupo and Nickelodeon Movies for feature film.
Margaret earned a MA in English from Stanford University, and completed classwork for a PhD in American Studies from Yale University. Margaret was a teaching assistant in Romantic Poetry at Stanford, and in Film Studies at Yale. She attended the Creative Writing Program of the University of East Anglia, Norwich, where she was mentored by the Scottish poet George MacBeth.
Margaret loves traveling with her daughters and living in Santa Monica with her husband, also a writer, and two naughty beagles. [Source]



Author's Comment: Q: What inspired Beautiful Creatures?

A: My teenagers wanted to read something different than what they were reading. They said, no vampires, no werewolves, no girl narrator, and make the girl a supernatural. They felt like all the fantasy they read was starting to feel the same, and they wanted the least generic book possible. Hence the Southern Gothic twist, where everyone is as quirky and weird as we are.

Nationality: American