Kami Garcia
---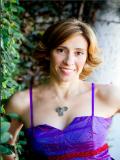 Kami Garcia is the international bestselling co-author of the Beautiful Creatures novels, also known as the Caster Chronicles. Beautiful Creatures has been published in 48 countries in more than 35 languages, with a film adaption due for release in early 2013.
Kami grew up outside of Washington DC, wore lots of black, and spent hours writing poetry in spiral notebooks. As a girl with Southern roots, she has always been fascinated by the paranormal and believes in lots of things "normal" people don't. She's very superstitious and would never sleep in a room with the number "13″ on the door. When she is not writing, Kami can usually be found watching disaster movies, listening to Soundgarden, or drinking Diet Coke.
Kami has a Masters in education, and taught in the Washington DC area until she moved to Los Angeles, where she was a teacher & Reading Specialist for 14 years. In addition to teaching, Kami was a professional artist and led fantasy book groups for children and teens. She lives in Los Angeles with her husband, son, daughter, and their dogs Spike and Oz (named after characters from Buffy the Vampire Slayer).



Author's Comment: Q: Tell us a little bit about teenage you! What current books would you be devouring if they'd been released when you were a teen?
A: I wore a lot of black, spent too much time listening to The Cure and too many class periods reading in my desk or writing poetry. I was 4'11" when I graduated from high school, and I always stuck up for the underdog. I always believed (and still do) in two things my great-grandmother taught me: "The right thing and the easy thing are never the same," and "What goes around comes back around."
I would have devoured Melissa Marr's Wicked Lovely series... Tahereh Mafi's Shatter Me... Lex Thomas' Quarantine... and Ransom Riggs' Miss Peregrine's Home for Peculiar Children.

Nationality: American