Wesley Dennis
---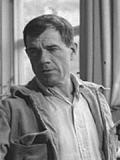 Wesley Dennis was born in Falmouth, Massachusetts, USA in 1903 and grew up on a farm in Cape Cod. He was a natural artist and loved horses, originally hoping to ride polo ponies. He left home at the age of 17, taking a job as a fashion artist, after which he moved to commercial art in advertising.
To learn about painting horses, he left his job to study under French artist, Lowes Luard. Luard taught him to draw from memory and with accuracy, also sending Wesley to butcher shops to study how horse muscles attached and what they are used for. Wesley loved the personalities and graceful movements of live horses, and captured the motion and facial expression of animals so accurately.
Wesley's first horse story, 'Flip' (1941) was well received and his career built strongly. During his life-time, he illustrated 150 books, including 'Black Beauty', 'King of the Wind', which earned a Newberry Medal Honor Award, and 'The Red Pony' by Pulitzer Prize-winning author, John Steinbeck. For twenty years, Wesley worked with Marguerite Henry. In a 1956 interview, Marguerite said, "This artist saw beyond hide and hair and bone. You could see that he loved animals, that he was trying to capture their spirit, personality and expression." Wesley died in Falmouth in 1966.
[Source]
Nationality:
American