Anne McCaffrey
---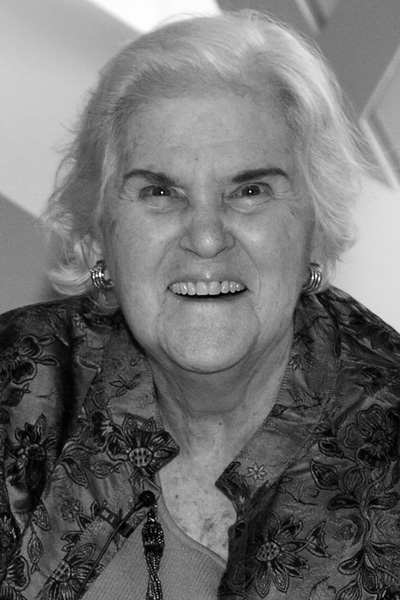 Anne McCaffrey was born in Massachusetts, USA in 1926. She was the second of three children and the only daughter of her parents, Anne and Col. George McCaffrey, both of Irish descent. She attended Stuart Hall (a girls' boarding school in Staunton, Virginia), and graduated from Montclair High School in New Jersey. In 1947, she graduated from Radcliffe College with a degree in Slavonic Languages and Literature.
In 1950, Anne married Horace Johnson, who shared her interests in music, opera and ballet. They were married for 20 years and had three children: Alec, Todd, and Georgeanne. Except for a short time in Dusseldorf, the family lived for almost a decade in Delaware, moving to Long Island in 1965, when Anne became a full-time writer.
Anne's first novel, 'Restoree', was published in 1967. She wrote many books in her lifetime, including many series; however, she is best known for the fantasy, science fiction series, 'Dragonriders', written over four decades and comprising more than 20 novels. Among other roles, Anne served a term as secretary-treasurer o
Author's Comment:
Q: In what major ways has publishing changed for women writers of [science fiction] in the last fifty odd years? It almost seems that, these days, there seems to be more women sf/fantasy writers making a good living out of writing than there are men.
Anne: There were always some, Andre Norton in particular, Katherine McLean, Judy Merrill, (Margaret St. Clair, Virginia Kidd) and another one who went into screen writing whose name I have forgotten. (She did the script to Red River.) I do believe that I helped get others published by example as women began to realize what a marvelous genre sf was. Now there is no more fooling around. A good story is a good story no matter who wrote it. And women could tackle gender stories that slick fiction would not handle. Pamela Sargent is a very good example of fine writing in the sf mode, so is Elizabeth Moon whose novel The Speed of Dark just won the Nebula. Kate Wilhelm, Ursula K LeGuin, Connie Willis are other sterling winners and the list is now fairly long of women writing specifically in the sf genre. I think that it's true; more women writers make a good living out of writing...whether they are married or single.
Nationality:
Irish