Lauren Oliver
---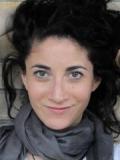 Lauren Oliver was born in Queens and raised in Westchester, New York. Her parents are both literature professors, and from a very early age, she and her sister were encouraged to make up stories, draw, paint, dance around in costumes, and generally be imaginative. Lauren started writing as a way of extending her love of reading, writing her own stories and keeping imaginary friends.
Lauren studied literature and philosophy at the University of Chicago, and later creative writing at New York University while working for Penguin Books. While at Penguin, she started writing her first novel, 'Before I Fall', and left in 2009 to pursue writing full-time. Lauren's interests include reading, cooking, traveling, dancing, running, and making up weird songs. She lives in in Brooklyn, New York, with her fiance, Michael.
[Source]
Author's Comment:
Q: Once people have read Pandemonium I'm sure they will all be eagerly awaiting Requiem just as much as I am, can you give us a small sneak peak? Lauren: I will only say that Requiem takes place from two different points of view, and I'm very excited about it!
Q: Your other two books have been stand alones, is it harder to write a trilogy/series then it is to write a stand alone? Lauren: I think it's challenging in a different way. There's something comforting about writing a series; you have more time to tell your story. But it is hard to live with the same characters for such an extended period of time.
Q: Your writing is so beautiful, how do you accomplish that? Do you try to write like that or is that just naturally how it comes out? Lauren: Thank you!! Well, I've been writing my whole life, and I've also been an avid reader. I've definitely tried very hard in my life to become a better writer, to work on the flow and the rhythm of the words. So I guess now it does kind of come "naturally," but I'm always honing my voice and working to better m
Nationality:
American