John Marsden
---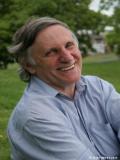 John Marsden is an Australian young adult writer, who has also worked as a teacher and school principal for much of his career. His first book, 'So Much To Tell You' was published in 1987. This was followed by 'Take My Word For It,' a half-sequel written from the point of view of another character. His landmark 'Tomorrow' series is widely recognised as the most popular Australian book series ever written for young adults, and is frequently studied in schools. The first book of this series, 'Tomorrow When The War Began,' has been reprinted 26 times in Australia, has been translated into ten different languages worldwide and also been adapted into a successful film. In total, he has published more than thirty novels and picture books and received countless awards and honours for his work. John currently resides in the Macedon ranges, in Victoria, where he is the founder and principal of an alternative school known as Candlebark.
Author's Comment:
Q:When someone asks you to sign a book what do you write?
"Take risks." I have lots but that's my favourite. I think everyone's too cautious. You've got to be adventurous. I often write "Take care, take risks." If you interpret "take risks" as meaning "drive down the wrong side of the road at 150kms an hour" then you're just a complete idiot. I mean be adventurous, but it just means get out there, do stuff and be willing to experiment.
Nationality:
Australian