Annie Barrows
---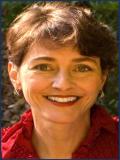 Annie grew up in Northern California, and graduated from the University of California at Berkeley, with a degree in Medieval History. Unable to find a job with her expertise in the middle ages, she decided upon a career as an editor, eventually landing at Chronicle Books in San Francisco, where she was in charge of "...all the books that nobody in their right mind would publish." After earning a Masters degree in Fine Arts, specifically in Creative Writing, from Mills College, Annie wrote a number of books for adults about such diverse subjects as fortune-telling (she can read palms!), urban legends (there are no alligators in the sewer!), and opera (she knows what they're singing about!). In 2003, Annie grew weary of writing books about grown-ups, and began to write for kids instead, which she found to be way more fun. Annie is married and has two daughters, Clio and Esme.
Author's Comment:
Q: What inspired you to write the first 'Ivy and Bean' book, especially as a chapter book for younger readers?
A: It all started when my daughter was six-and-a-half, at the end of first grade. After we read the 'Magic Tree House' series and Junie B. Jones, we ran out of stuff to read. There was a big, empty hole. I was looking for a chapter book that was age appropriate and at the right reading level. I was floundering around the library looking for something - something that was more than easy readers and not the full blown novels for older children. I thought, "Something needs to be done about this! This is terrible!" Then I thought: "Wait a moment, I'm a writer. Maybe I should write a book for these kids."
For this age group, children like stories that reflect their own reality. Later on, books for children get so heavy. I wanted to create a light-hearted experience, something that was fun to read.
Nationality:
American