Christopher Paolini
---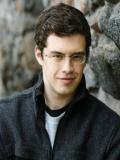 Christopher Paolini was born in Los Angeles, California in 1983, but raised in the Paradise Valley, Montana. He was home-schooled for the duration of his education and graduated from high school at the age of 15 through a set of accredited correspondence courses. Following graduation, he began work on what would become the novel 'Eragon', the first in a series of young adult fantasy novels set in the mythical land of Alagaesia.
In 2002, when Paolini was just nineteen-years-old 'Eragon' was published by Paolini International LLC, a company established by the teenager's parents. Later that year, the book came to the attention of publisher Alfred A. Knopf, who made an offer to publish 'Eragon' and any sequels to be written. To date, the 'Inheritance Cycle' has sold more than 25 million copies internationally. Paolini continues to reside in the Paradise Valley area of Montana, USA.
Author's Comment:
I was homeschooled, and when I graduated from high school I had a lot of time on my hands, since my parents weren't going to send me off to college at 15. So I decided to try to write a story that I would enjoy reading myself. Not to get it published. Before I started, I studied books on stories and characters and plots. One was The Writer's Handbook. And Story by Robert McKee gave me an idea of story structure. Then, I spent an entire month to plot out Eragon and the two sequels. Many writers don't work this way. But for me, I figure out what I'm going to write beforehand, so I'm free to concentrate on presenting it in the most beautiful, eloquent manner possible. You'd never expect a professional singer to compose a song while she sang it. She works it out in advance.
Nationality:
American