Sherryl Clark
---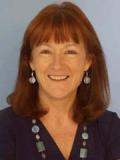 Sherryl Clark is a prolific and popular writer who has had over 40 children's and Young Adult books published. Born in New Zealand on a dairy farm, Sherryl travelled the world before eventually settling in Australia after arriving here in 1978.
Sherryl, who has an Arts Degree from Deakin University, began writing for children in 1996 after being encouraged by a friend. Her first book,
The Too-Tight Tutu
was published by Penguin in 1997 as one of the first Aussie Bites. Sherryl's most recent Puffin book is
Motormouth
, is a companion volume to
Sixth Grade Style Queen (Not!)
, which was shortlisted for the 2009 CBCA Book of the Year Award, Younger Readers.
Nationality:
New Zealander / Australian