Gabrielle Wang
---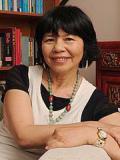 Gabrielle Wang is a much loved writer for young people. A fourth generation Chinese Australian born in Melbourne, Gabrielle studied graphic design and did an Arts degree at Melbourne University, majoring in Chinese. Gabrielle has worked as a sales girl, abalone sheller, dishwasher, waitress, graphic designer, English teacher and Chinese teacher. Gabrielle's books include her bestselling Young Adult novel,
Little Paradise
, and the popular
Ghost in My Suitcase
, which won the 2009 Aurealis Award for young fiction. Gabrielle is married with two children and lives with her husband, a dog called Saffy who does lots of tricks, a cockatiel called Cookie and a guinea pig called Ratty.
Author's Comment:
Q. Who were/are your writing inspirations
?
I'm inspired by Chinese philosophers like Laozi and Zhuangzi. I like to use some of their thoughts in my books. They talk about peace and harmony and going with the flow.
Q. Where do your ideas come from for your books?
I write from my personal experiences because I've had lots adventures both really exciting ones and sad ones. An idea for a book might come from a dream as in The Garden of Empress Cassia a picture I see in my mind's eye as in The Hidden Monastery, or a memory as in The Pearl of Tiger Bay. The rest comes from my imagination and what I observe around me.
Nationality:
Australian