Sofie Laguna
---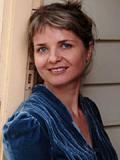 Sofie Laguna was born in 1968 in Sydney and began her career as an actor. Her books have been named Honour Books and Notable Books by the Children's Book Council of Australia and shortlisted in the Queensland Premier's Awards. Her picture book with Andrew McLean,
On Our Way to the Beach
, was included in an annual selection of outstanding international children's books by the International Youth Library (Associated Project of UNESCO). Sofie's other books include
My Yellow Blanky
,
Too Loud Lily
,
Surviving Aunt Marsha
,
Bad Buster
and
Big Ned's Bushwalk
. Sofie lives in Melbourne with her partner and new baby.
Nationality:
Australian