J.K. Rowling
---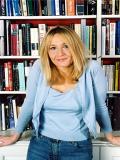 Joanne Rowling was born in July 1965 at Yate General Hospital in England and grew up in Chepstow. After college she studied at Exeter University, obtaining a degree in French and Classics. She began writing the 'Harry Potter' series during a delayed Manchester to London King's Cross train journey, and during the next five years, outlined the plots for each book and began writing the first novel. 'Harry Potter & the Philosopher's Stone' was selected for publication by Bloomsbury Children's Books in 1997. Seven novels and three companion books later, the 'Harry Potter' series has received worldwide acclaim and broken numerous book-selling records, including the greatest number of books sold on the first day of publication in the UK. J.K. Rowling, who has been awarded an OBE for services to children's literature, lives in Edinburgh with her husband and three children.
Author's Comment:
Q: If you were placed in a House, which would it be and why?
A: Well, I would want to be in Gryffindor and the reason I would want to be in Gryffindor is because I do prize courage in all its various ramifications. I value it more highly than any other virtue and by that I mean not just physical courage and flashy courage, but moral courage. And I wanted to make that point in a very first book with Neville, because Neville doesn't have that that showy macho type of courage that Harry shows playing quidditch. But at the end, what Neville does at the end of Philosopher's Stone to stand up to his friends and risk their dislike and approval is hugely courageous so I would want to be in Gryffindor. That is not to say I would be there. I think there is a good bit of Hufflepuff in me.
Nationality:
British