About Cereal Readers

Cereal Readers is a book resource website where you can find books published in series for children and young adults. We recognize that books in series are vitally important to both avid and reluctant readers alike. Why is that?

Well, if truth be told, we all prefer the familiar, and once you've read a book you enjoy there's a high probability you'll enjoy the other books in the series, too. You like the genre; you enjoy the writing style; you know the characters - it's simplicity itself to slip from one book to the next. If you're not an eager reader, you can leverage the time you've already invested in finally finding a book you enjoy, and delay your laborious search for a new novel of interest. Just relax and cruise your way through an entire series. If you're a voracious reader, you can take a reprieve from the never-ending hunt for the next good read for a whole...week. It's win-win!


Seriously Series-Centric
Our whole site is series focused in structure with the following features:


Series summary and detailed description of each book
Easy to navigate list of all books in a series
View series books in reading sequence
Printer-friendly list of titles to take to the library or bookstore
Search categories for series by age or reading level
Keyword search for genres of interest

Cereal Readers wants to show you the popular series, as well as those fabulous series you had no idea even existed. Please let us know if a series you particularly enjoy has not yet been included on the site, so we can hasten its arrival. Wishing you happy serial reading, from Cereal Readers!


---
Who Are We?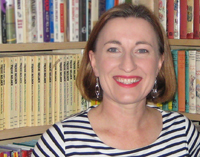 Marielle Rebbechi
Marielle has been a keen reader and consumer of breakfast cereal from a young age. Over countless bowls of corn flakes, her most-read childhood books were those in Enid Blyton's Faraway Tree series, and she still thinks the Saucepan Man is pretty funny. She later enjoyed the Trixie Belden series, relying on an equally book-thirsty friend to supply the latest release. Her favourites in recent years include the young adult series, Divergent by Veronica Roth, Chaos Walking by Patrick Ness, and The Dreamhunter duet by Elizabeth Knox. Marielle has a Bachelor of Business from Monash University, a Graduate Diploma in Literature from La Trobe University, and a Provisional Certificate of Motherhood from her son, Alex. She has worked as a mainframe operator, database administrator, lending officer, technical writer, and web designer. She still has fond memories of her family's first home computer in 1977: a Tandy TRS80 from Radio Shack with 4 kb memory (seriously, just 4 kb). Putting children's literature online is the perfect coalition of all her interests.



Favourite series:

The Faraway Tree, Divergent, Chaos Walking, Dreamhunter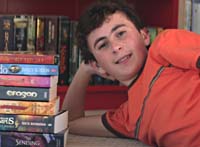 Alex Nielsen
Alex is a voracious reader, technophile and lover of learning. His avid reading provided the initial inspiration for Cereal Readers, while his extensive reading logs proved excellent seed material. He has very definite ideas on the quality of books and scope of information included on the website, and many a lively discussion has ensued as a result! Alex and his cousin are developing their own forum reference website for I.T. and game-related issues. His favourite series include: Redwall by Brian Jacques, The Kane Chronicles by Rick Riordan, and Ranger's Apprentice by John Flanagan. He eats his cereal without milk.



Favourite series:

Redwall, Ranger's Apprentice, The Kane Chronicles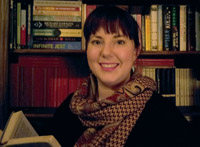 Kara Smith
Kara grew up on a farm in rural Victoria and spent most of her childhood sitting in a favourite tree with her head in a book. She frequently pestered her school librarian for book recommendations and was always on the hunt for that elusive next read. Her love of books in series flourished when, home sick from school one day, her mother bought her Ann M. Martin's The Babysitters Club: Kristy's Great Idea. Kara quickly took to faking illness in the hope she'd be rewarded with more Baby-Sitters Club books, but her mother cottoned on quickly! Other childhood favourites included Goosebumps by R.L. Stine, and L.M. Montgomery's Anne of Green Gables series, so it's fair to say her reading tastes were diverse. As an adult, Kara reads anything that has an interesting plot and employs proper syntax. She has a Bachelor of Arts in Literature, and when she's not working on the Cereal Readers website, she works at a local bookstore where - life coming full circle - she is frequently pestered by children looking for that elusive next read. Her favourite cereal is oatmeal porridge...smothered in maple syrup!



Favourite series:

The Baby-Sitter's Club, Anne of Green Gables, Malory Towers, Goosebumps