When Did You Last See Her?
---
by
Lemony Snicket
(Author)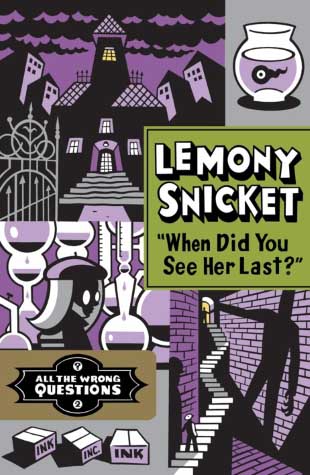 Before you look any further into reading When Did You See Her Last? ask yourself these questions:

1. Has anyone seen the missing girl?
2. Why aren't her parents upset? They seem confused.
3. What do a chemistry experiment, a grocery store, unruly hair, and a stolen statue have to do with anything?
4. Now I'm confused. Why are you changing the subject? You're supposed to be thinking about the missing girl. Where is she?

The second in the highly anticipated new series by Lemony Snicket, the enigmatic author of the grim and curious narrative of the Baudelaire children, A Series of Unfortunate Events.

In the fading town of Stain'd-by-the-Sea, young apprentice Lemony Snicket has a new case to solve when he and his chaperone are hired to find a missing girl. Is the girl a runaway? Or was she kidnapped? Was she seen last at the grocery store? Or could she have stopped at the diner? Is it really any of your business?

These are all the wrong questions.