Taking the Chequered Flag
---
by
Michael Panckridge
(Co-Author)
Pam Harvey
(Co-Author)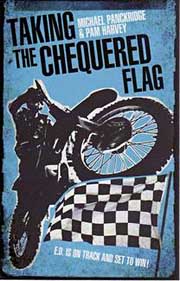 208
Published: 2008

Shop this book
Emilio De Luglio (E.D.) is the youngest of three brothers, all of them motocross enthusiasts. As the youngest, he's always been support crew, fixing up his brothers' bike, rather than racing. But this time, as a result of losing a bet with his brother Tony, he's reluctantly competing in a race.
It doesn't seem as if the race track is a level playing field, though. There are some mysterious riders in lime green bikes who don't play fair, and there's a whiff of high tech cheating going on around Proctor's Powerhouse (suppliers of motorbikes and gadgets) which seems to have developed into a thriving business in a suspiciously short time.
And there's also a legendary motocross track through the old railway system, including a tunnel. No one's ever done this dangerous track in less than 15 seconds before, but plenty are game to try, including E.D.'s brothers.
When a serious crash puts his older brother Tony in hospital, E.D. must step up to the job and compete on his behalf, even though he knows he doesn't have much of a chance to get through to the finals. But E.D. proves once again his capacity to surprise everyone – in an unexpected way.