Megs and The Crazy Legs
---
by
Neil Montagnana-Wallace
(Author)
Mark Schwarzer
(Author)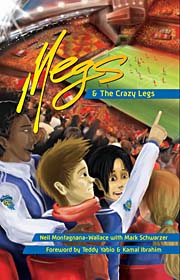 204
Published: 2008

Shop this book
The two things Megs noticed first about Finidi were that his skin was as black as coal, and that he was incredibly tall.
'You going to play, Fini?' Matteo asked.
'I in love with football,' Fini replied. 'I not often see proper ones and often must use socks, but I love still.'
We'll be on a plane overseas in just under a month, Megs thought. We can't be having new wanna-bes at this late stage!
The moment of heading overseas is coming closer, and the Pennendale Wanderers are agog with excitement. But there's a new kid at the school from a land that no-one knows, and with a background of hardship that no-one can even imagine. Megs seems to be the only one who resents the new arrival, but feels he has good reason to do so. Should a player with no experience be welcomed into their tight-knit team? Can Megs manage to become part of the solution rather than part of the problem?
In this instalment of the acclaimed Megs series, Edward 'Megs' Morrison revisits his old home in Liverpool with the Vootball Kids of Pennendale Primary. Against a backdrop of English football scenes, the Pennendale Wanderers face hardships of their own, as the strain of travel adds to the difficulties of playing top-class opposition. How will Megs cope with his resentment? Will the team remain united in the face of so many challenges?
Megs and the Crazy Legs is about the joy of football, but it's also about dealing with jealousy, accepting diversity and understanding that every individual can make a difference.