Megs and The Complete Left Foot
---
by
Neil Montagnana-Wallace
(Author)
Mark Schwarzer
(Author)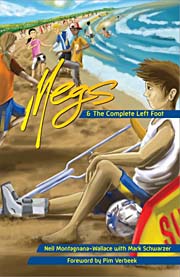 200
Published: 2009

Shop this book
Juggling is difficult in the dark. Luckily, it was daylight-saving time, so there was reasonable light until 8.30pm, but even though Megs had been at it for the last three hours, his record remained unbeaten. Between attempts he'd paused for what he'd called dinner and his mum had called a snack, but other than that, it'd been all about the ball ...
Reluctantly, he accepted defeat by darkness and ambled back inside. His calves ached and the muscles around his hips were exhausted from the effort.
'Can't win 'em all, kid,' Mr Morrison said, as Megs flopped onto the couch.
It's summer in Pennendale and the holidays are a haze of sunshine, flies, barbecues, trips, ice-creams from the milk bar, ice-creams at friends' houses and ice-creams from the magical vans that drive around the streets playing music to entice young kids. But all that soon changes once Megs and the Vootball Kids start back at school. They're in Year 6 now, there's a new teacher and a new football season on the horizon – and the announcement of a representative team that will compete for the state titles.
Edward 'Megs' Morrison's legendary dedication and tenacity are sternly tested in this instalment of the Megs series – and not just because he so desperately wants to beat his longstanding juggling record. Tougher trials come his way and, as he wallows in self-pity, his footballing dreams drift away.
Will Megs succumb to these setbacks, or show courage and rise to the challenge? Can he change his attitude? Is it possible to live a life without football?
Megs and the Complete Left Foot is about understanding that when life throws you a lemon … it's best to make lemonade.